Honduras Mission
Church Support, Relief Work, Education, Orphan Care
Missions - Honduras
Living Hope for Honduras is a Christian non-profit headquartered in LaGrange, GA, founded by the Bob Walters family in 1990. The work today includes 14 hand-built church buildings and partial support of their preachers. Through the churches and community leaders, we help supply basic needs for widows and the poorest of the poor. Volunteers and mission groups complete construction/maintenance projects such as adding concrete flooring in homes and installing pilas (large basins) to hold water for cooking and cleaning. The dairy farm produces beef, milk, and produce for the children's home, with some excess that can be sold. Living Hope offers scholarships for more than 300 area children annually, enabling them to finish high school and attend a university. In 2017 a children's home, Nanny's Casa, opened to care for 12 abused and abandoned little girls. A second home, Lynn's Casa, is scheduled to open in January, 2022 and will accommodate 12 more girls!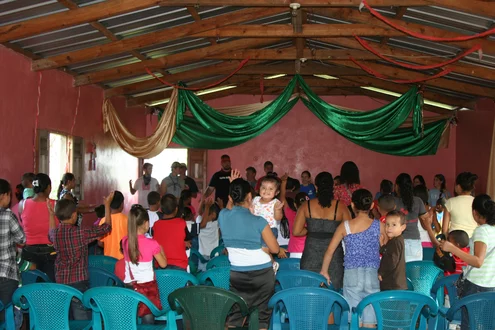 Since the first seeds of service were planted in the founder's heart, Living Hope has helped many families, children, and women who have been forgotten, abandoned, and abused. The mission today builds on that vision, working constantly to help these amazing people forge a better life for their families."
Newnan Church of Christ has been intimately involved with Living Hope for Honduras for many years. One of our elders, Johnnie Pilgrim, currently serves as the Executive Board Director. Our Minister to Families, Morgan Gravley, serves on the board and his wife, Danielle, serves as the Administrative Assistant.
NCC currently supports a preacher, Enrique, in the village Las Delicias. We also sponsor multiple students and support the orphanage work.
If you're interested in organizing a trip, taking a team, or simply want more information on how YOU can support or give of your time or money, please click on the link below!